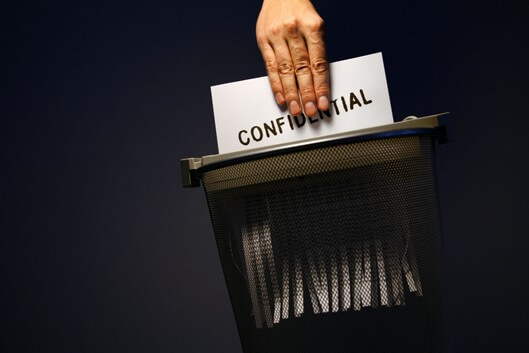 Document destruction is a service used by many different companies, including home, business, government, and school systems. This service is important for businesses because it gives them the ability to protect sensitive information and prevent identity theft. If papers aren't appropriately shredded, they could be recovered from the trash, and sensitive data could still be stolen very easily.
While it's often a small thing to throw away a file, sometimes sensitive information can be extremely crucial. As such, companies should be sure that every method for document destruction services is as confidential as possible. So how do you go about getting a document destruction service? What do you need to know before you book your appointment? This blog will serve as a guide on how to protect your data by using a document destruction service.
Choosing the Right Company
Choosing a secure document destruction services company to provide your information is an important decision. You want to choose a trustworthy, experienced company and has a reputation for good customer service. When selecting a company, you should make sure that they are either Certified by NAID or are a Member of NAID. This means that they have the highest standards for a secure destruction process. It is also important that they provide you with a Certificate of Destruction, proof that your documents have been destroyed securely.
It is a good idea to consider how much the Document destruction services will cost. Depending on how much you need to shred, the price will vary. Some companies charge a flat fee for shredding services, while other companies charge an hourly rate.
The Benefits of Document Destruction Service
Security
Security is essential for any business. Having your documents destroyed can ensure the safety of your business records. A reliable document shredding company can handle this task professionally and effectively, leaving your records behind for good. You will no longer have to worry about what you will do with your documents in the future.
Convenient & Fast
Another benefit is that the machine is usually very fast. The process is completed in a short period of time. Doing the shredding yourself could take you all day or even multiple days, which costs you money in time.
Also, the great thing about using a document destruction service is that you don't even have to leave the office. The professional shredding company of your choice will come to your office, pick up the documents you need shredded and store them in a secure container which is then taken to the mobile shredding truck to be shredded right then and there.
Environmentally Friendly
Using a professional service is one of the best ways to reduce your business' carbon footprint. By shredding your documents, you are taking steps to ensure that none of the content remains. This will help to reduce the amount of waste that is created in the city's garbage system. The reduced amount of waste will reduce your impact on the environment.
Types of Document Destruction Services
Since every business has different shredding requirements, there are different types of document destruction services that can be tailored to their needs.
One-Time Shredding: When you need to destroy business or personal records, a one-time shredding service is a great way to get rid of all your unwanted documents at once.
Scheduled Shredding: If your office is always overflowing with unwanted documents, then a scheduled shredding service is right for you. Whether you need it weekly, bi-weekly, or monthly. Until your scheduled appointment, secure containers will be provided for storing your documents.
Drop-Off Shredding: If you don't have a lot of documents that need to be shredded to schedule an on-site document destruction appointment, then you can go to a drop-off shredding location where your documents will be shredded in a secure facility.
There are many different benefits of hiring professional document destruction services. If you own a small business or are in charge of maintaining records for multiple people, this is necessary. Your customer's private information is very important. Keeping that information safe and secure will help to protect them from identity theft.
If you are ready to start shredding, contact A1 Datashred today!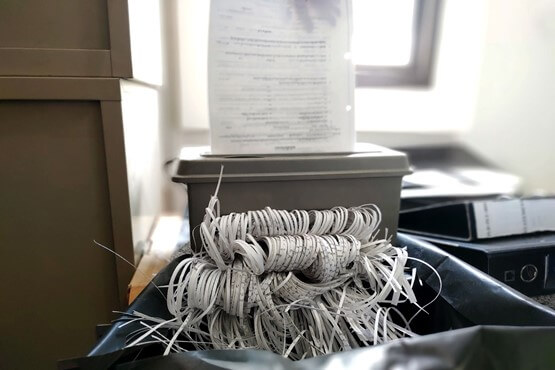 Document shredding has become a necessity for businesses who want to protect their sensitive information. Many companies now outsource all of their shredding because of how convenient it is and the security that it brings. Now because every company is different, they require different shredding needs. This is why shredding companies provide various shredding services, one of the biggest services being one-time shredding.
What is the difference between One-time shredding and other shredding services? In this blog post, we will discuss what one-time shredding is, the benefits, and how often you should shred.
What is One-Time Shredding?
One-Time shredding or Purge shredding is an excellent option for anyone that has a ton of documents that need shredding. This service isn't for just business owners but also for homeowners that also have personal documents that need to be disposed of properly. This type of shredding service is for someone who has a lot of shredding but doesn't need a regular shredding appointment.
All you need to do to get started is call your local shredding company to set up your single appointment date. Then just on the day of your appointment, the shredding company will arrive in their mobile shredding truck, and you just need to point them in the right direction of your documents and the ones you want shredded. They will then put them in a secure container and take them directly to the mobile shredding truck to be shredded right there on-site or taken to an off-site facility shredded later. Once the shredding is completed, you will be presented with a Certificate of Destruction proving that your documents have been shredded securely.
Benefits of One-Time Shredding
A one-time shredding service or just any kind of shredding service, in general, can provide a variety of benefits. Its benefits include security, cost-effectiveness and environmental friendliness. Let's go through these benefits in more detail.
Security
Document shredding is a necessary security measure in keeping sensitive documents safe from identity theft. Identity theft happens when someone steals your information, such as your social security number, credit card numbers, and loans, from you and uses it to make purchases. By destroying these documents, you protect yourself and your family from anyone who may use your information.
Cost-Effectiveness
A service like one-time shredding seems like a more expensive option than simply shredding your own documents. Shredding documents yourself, however, takes a lot longer; it can even take days, which is why it costs more. It can also cost more to do it yourself because you have to pay for the shredding units and unexpected costs that come along with owning your shredders, like repairs and maintenance fees.
When you choose a shredding service, all you need to do is point to where your documents are, and the professionals handle the rest, letting you get back to more important tasks.
Environmental Friendly
The best benefit of using a one-time shredding service is that after all your documents have been securely shredded, all the paper bits are taken to a recycling facility to be made into other paper products. It's important to protect the world we live in, which is a great way to do that.
How Often Should I Shred?
When it comes to how often to use a one-time shredding service, most people tend to do it once a year, but the great thing about this type of service is that if you need shredding done sooner, then all you have to do is call up your local shredding company and make an appointment.
Now that you've learned all about one-time shredding, you're ready to book your first shredding appointment. Contact A1 Datashred for your free quote today!