Blog
With over 16 years of combined experience, A1 DATASHRED is the most professional, cost-effective and trusted shredding company.
One-Time Shredding – What is it, and Why Should I Use it?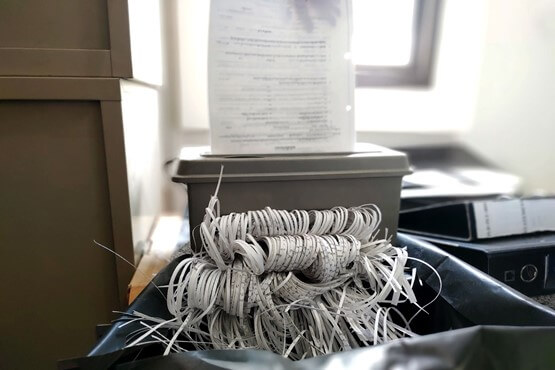 Document shredding has become a necessity for businesses who want to protect their sensitive information. Many companies now outsource all of their shredding because of how convenient it is and the security that it brings. Now because every company is different, they require different shredding needs. This is why shredding companies provide various shredding services, one of the biggest services being one-time shredding.
What is the difference between One-time shredding and other shredding services? In this blog post, we will discuss what one-time shredding is, the benefits, and how often you should shred.
What is One-Time Shredding?
One-Time shredding or Purge shredding is an excellent option for anyone that has a ton of documents that need shredding. This service isn't for just business owners but also for homeowners that also have personal documents that need to be disposed of properly. This type of shredding service is for someone who has a lot of shredding but doesn't need a regular shredding appointment.
All you need to do to get started is call your local shredding company to set up your single appointment date. Then just on the day of your appointment, the shredding company will arrive in their mobile shredding truck, and you just need to point them in the right direction of your documents and the ones you want shredded. They will then put them in a secure container and take them directly to the mobile shredding truck to be shredded right there on-site or taken to an off-site facility shredded later. Once the shredding is completed, you will be presented with a Certificate of Destruction proving that your documents have been shredded securely.
Benefits of One-Time Shredding
A one-time shredding service or just any kind of shredding service, in general, can provide a variety of benefits. Its benefits include security, cost-effectiveness and environmental friendliness. Let's go through these benefits in more detail.
Security
Document shredding is a necessary security measure in keeping sensitive documents safe from identity theft. Identity theft happens when someone steals your information, such as your social security number, credit card numbers, and loans, from you and uses it to make purchases. By destroying these documents, you protect yourself and your family from anyone who may use your information.
Cost-Effectiveness
A service like one-time shredding seems like a more expensive option than simply shredding your own documents. Shredding documents yourself, however, takes a lot longer; it can even take days, which is why it costs more. It can also cost more to do it yourself because you have to pay for the shredding units and unexpected costs that come along with owning your shredders, like repairs and maintenance fees.
When you choose a shredding service, all you need to do is point to where your documents are, and the professionals handle the rest, letting you get back to more important tasks.
Environmental Friendly
The best benefit of using a one-time shredding service is that after all your documents have been securely shredded, all the paper bits are taken to a recycling facility to be made into other paper products. It's important to protect the world we live in, which is a great way to do that.
How Often Should I Shred?
When it comes to how often to use a one-time shredding service, most people tend to do it once a year, but the great thing about this type of service is that if you need shredding done sooner, then all you have to do is call up your local shredding company and make an appointment.
Now that you've learned all about one-time shredding, you're ready to book your first shredding appointment. Contact A1 Datashred for your free quote today!
July 20, 2021