Blog
With over 16 years of combined experience, A1 DATASHRED is the most professional, cost-effective and trusted shredding company.
Why Mobile Shredding Service Is The Most Secure
One of the great concerns people have when considering a shredding service provider is having to trust them with how they handle your documents. When you hand off your documents and leave, you are no longer there to see what happens, anything could happen and you'd have no idea. Did the integrity of the staff ensure nothing suspicious happened between handoff and shredding? Did shredding even happen? These are very valid concerns when it's your secure information at stake.
Mobile shredding service is the answer for those who are rightly hesitant about handing off information and walking away. It's a bold claim to say it's the most secure service, and we're going to prove that today. It all comes down to several factors: uniformed personnel, lockable containers, industrial grade shred truck, observing the process, and receiving a shred certificate. Let's get into it!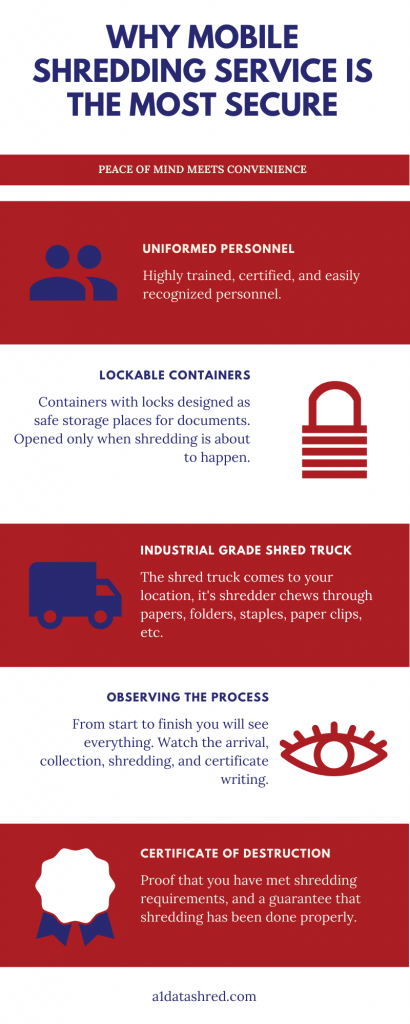 5 Reasons For Mobile Shredding Service
Uniformed Personnel
Perhaps this is self evident, but you shouldn't just let anyone walk up, take your documents, and go off to shred them. Our staff is all trained and uniformed appropriately so you know who they are at a glance. By receiving the highest level of compliance training, everyone is certified in the proper handling of sensitive information. You won't be trusting just anybody.
Lockable Containers
The time between shredding is the time when something could be "misplaced". So what is one to do? A safe place is needed that won't bog down the workflow, and while Fort Knox sounds like a great idea, something that's a bit more accessible is needed. Enter the shred bin, a lockable container designed to let papers in and are placed for unobtrusive yet easy access.
Only our uniformed personnel have the ability to unlock these containers, and it's only done when shredding is about to happen. With different sizes depending on your needs, you're able to safely store documents leading up to your shred day without violating any compliance laws.
The Industrial Shred Truck
So where exactly does the "mobile" aspect come into play with the mobile shredding service? As you may be able to guess from the above title, it comes in the form of a big white truck! So how exactly is it more secure than traditional shredding you ask? It all comes down to the fact that there is no transportation involved. Documents are loaded into the truck and shredded right on the spot.
No throwing them into the back of a wagon and driving off, no minimal capacity needed before the shredder can be turned on, and no maximum capacity for your job either for that matter. Simply load the container, raise it up, tip it over, and shred everything from papers, to folders, to staples, and paper clips. The shredder chews through all of it, and you can even see it happen live on T.V. (more on that below)!
Observing The Whole Process
At the start we suggested that turning around and trusting that shredding has occurred is a bit of a leap. With this whole mobile shredding thing, there is no need to walk off without knowing what has happened. From the time that our uniformed personnel arrives at your location, through them collecting your documents, wheeling the bin outside to the truck, and starting the shredding, you will see it all. We encourage you to come along and see everything happen.
Above you hinted at there being a T.V. feature with the trucks. This is true! There is a monitor on the side that lets you look into the belly of the beast as it were and see the magic happen. Seeing a mass of papers getting chewed up can be a sight to behold, and you'll know without a shadow of a doubt that your records have been destroyed. Why not throw some coloured papers in to get a more impressive show while you're there?
Certificate Of Destruction
When the confetti has cleared, there is one more thing to do before the job is done. A certificate of destruction will be signed off and awarded to you. This is a guarantee that proper shredding has happened, and is proof for your records that you were compliant with shred requirements.
Secure And Convenient
With the most secure service you can get, and the fact that it comes to you, your peace of mind won't be sacrificing convenience. This is why we think mobile shredding services are the most secure out there, and hopefully you now see why yourself. As always, for any questions or interest in this, reach out to us and we'll help you.
It's what we do.
January 29, 2020